Are you looking for a TV Host or Collaborator for your TV production? Are you looking for a presenter for your event? A motivational speaker with a vast experience in science for your conference cycle?
Are you planning a communications campaign for your next Hi-Tech/Scientific product or service and you want the best assessment? Do you want to create inspirational programs for young people based on your Hi-Tech/Scientific product or service?
Are you starting a new Science project and you need assessment? Do you need a crisis communications plan related with a Hi-Tech or Scientific service/product?
Gloria Garcia-Cuadrado will be delighted to work with you.
With more than 25 years of experience in the research, consulting, and science communication sector, Gloria Garcia-Cuadrado has built a large network of contacts that include, among others (see full list):
- Large players like NASA, European Space Agency (ESA), ZeroG, CERN, ITER, Starmus, X-Prize, EADS/Airbus, Embraer, Lockheed Martin, Indra...
- Prominent scientists/communicators such as Stephen Hawking, british Theoretical Physicist and Science Communicator, author of several books which include the famous best-seller "A brief history of Time"; Neil de Grasse Tyson,  Director of the Hayden Observatory in New York and Host of the famous renewed series "Cosmos"; Richard Dawkins, Ethologist and Evolutive Biologist, author of several books and strong advocate for critical thinking; Brian Greene, US Theoretical Physicist and Science Communicator; Jane Goodall, british Primatologist, Ethologist, and Anthropologist, UN Messenger of Peace, and recognized worldwide as a primate behavior expert; Jill Tarter, US astrophysicist and SETI science program research for the search of Extra-Terrestrial Intelligence, who inspired the character played by Jodie Foster in the movie "Contact"; Chris Hadfield, first Canadian astronaut, also known for his rendition of the famous David Bowie song "Space Oddity", played while he floated in zero gravity from the International Space Station; Yevgeny Valentinovich Kaspersky, Russian expert in cybersecurity and CEO of Kaspersky Lab...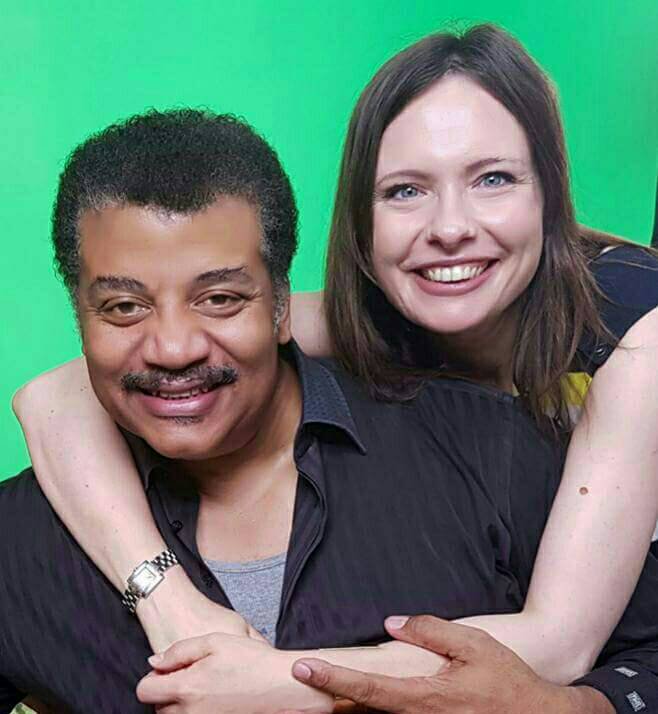 - And several Nobel Prize recipients such as; Joseph Stiglitz, US economist, Nobel Memorial Prize in Economic Sciences recipient, 2001, ex-VicePresident and Chief Economist of the World Bank, and ex-member of the Economic Experts Advisory Council of the President of the United States of America; Elizabeth Blackburn, Australo-American Molecular Biologist, Nobel Prize in Physiology or Medicine recipient, shared, in 2009; Eric Betzig, US physicist Nobel Prize in Chemistry recipient, shared, in 2014; Edvard Moser Norwegian psychologist and neuroscientist, Nobel Prize in Physiology or Medicine recipient, shared, in 2014.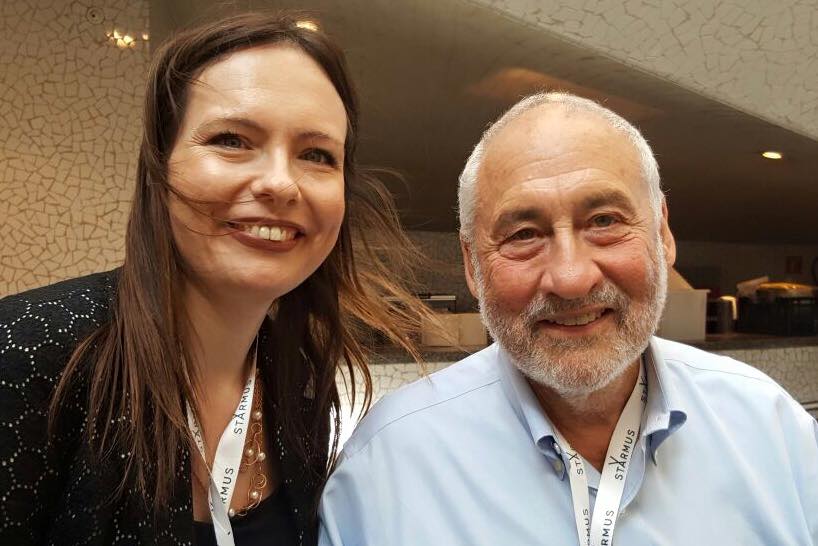 COLLABORATION AREAS
 
Science and Technology Consulting and Assessment
Crisis communication in Science and Technology issues
Host and collaborator in Television Productions
Scientific Communication Campaigns
Scientific shoots (microgravity flights, display flying, aerobatic flying, other scientific platforms and facilities)
Event Presenter
Lecturer
Motivational corporate workshops
 Gloria Garcia-Cuadrado is your best choice. Contact us and we'll study your proposal.
"I don't think I am doing science...I believe I am science in the sense that science runs through my veins being a fundamental part of me. It is not a costume I put on and take off once I get home: I go to bed with it and I wake up with it. That's why I can guarantee that you will find a passionate partner, motivational, true, committed and successful" 
United Nations Organization (UN) - Space Generation Advisory Council
US Government - Federal Aviation Administration (FAA)
European Commission
European Union - Research framework programmes
European Union - European Aviation Safety Agency (EASA)
European Defence Agency (EDA)
Government of Israel
Shanghai City Council
Government of Spain

Ministry of Industry
Ministry of Education and Science
Ministry of Defence
State Agency for Air Safety (AESA)
Centre for Technological and Industrial Development (CDTI)
ISDEFE
Office for Export and Investments - ICEX

Generalitat of Catalonia

Parliament of Catalonia
Department of Industry
Department of Business and Occupation
Department of Education
Department of Harbors, Airports, and Shores
Airports of Catalonia
Office for Enterprise Competitiveness (ACCIÓ)
Centre for Enterprise Innovation and Development (CIDEM)
PIMEC
Agency for the promotion of Science and Talent (Talència)
Catalan Foundation for Research and Knowledge (FCRI)

Barcelona City Council

Area for Education and Vocational Education
Area for Business and Competitiveness
Area for Tourism
Office for Business entrepreneurship - Barcelona Activa

Provincial council of Barcelona
Provincial council of Lleida
Barcelona Chamber of Commerce
Foment del Treball
Gestión y Promoción Aeroportuaria (GPA)
Municipal Institute for Business and Occupation (IMET)
Hospitalet de Llobregat City Council
El Prat de Llobregat City Council
Terrassa City Council
Sabadell City Council
Viladecans City Council
Reus City Council
Lleida City Council
Boeing
Lockheed Martin
Spaceport America
Virgin Galactic
Sea Launch
China Aviation Industrial Base (CAIB)
Aircraft Owners and Pilots Association (AOPA)
AeroSpace and Defence Industries Association of Europe (ASD)
European Regions Airlines Association (ERA)
EACP (European Aerospace Cluster Partnership)
Communité de Villes Ariane (CVA)
Airbus
Airbus Space
Airbus Helicopters
Embraer
Bombardier
Dornier
Spectrum
Novespace
Aerospace Valley (Toulouse Aerospace Cluster)
Bordeaux-Mérignac Airport
AENA Aeropuertos
Enaire
Barcelona - El Prat Airport
Lleida-Alguaire Airport
Igualada-Ódena Airport
La Cerdanya Aerodrome
ATECMA (Spanish Association of Aerospace Material Producers)
PIMEC
ProEspacio
TEDAE
HEGAN (Basque Country Aerospace Cluster)
Fundación Hélice
Aragon Aerospace Cluster
Catalonia Aerospace Cluster (BAIE)
Sabadell Airport Operator Companies Association (AEOAS)
Iberia
Vueling
Indra
RBA
Mundo Olé
Terra España
Telefónica
Abertis
Aernova
ALG
ANORTEC
APPLUS+
Aritex
Atos Origin
AutoStamp Ingeniería
Barcelona Centre Logístic Catalunya
CAT Helicopters
Catalana d'Iniciatives
CIMSA
Composites ATE
Comsa-Emte
Consorio de la Zona Franca
CTECNO
DOVER
Faqcil Engineering
FICOSA
FIPSA
Galactic Suite
GTD
GPA – Gestión y Promoción Aeroportuaria
Gutmar
Hoffman Ibérica
IDOM
Industria Helicat
INGENIA
INHISET
ISEE
ITP
Mapro
Mazel
Mier Comunicaciones
MMM – Manufactura Moderna de Metales
MPA
Nature Machines
Neotex
NTE
Orion Cultural
Pildo Labs
Prae Tarde
Procon Systems
Promaut
Real Automóvil Club de Cataluña (RACC)
Rucker-Lypsa
SECARYS
SENER
Serra Aeronautics
Sis-Next
Solid Enginyeria
SONY
Starlab
Suinsa
TAF
TaxiJet
Telstar
T-Systems
Ultramàgic
W- Aeronáutica
Research, Universities and Education, Foundations
NASA
NASA- Goddard Spaceflight Centre
NASA -Jet Propulsion Laboratory
SETI Program
Starmus
Hayden Planetarium
China National Space Administration
Canadian Space Agency
European Space Agency (ESA)
European Space Agency (ESA) - ESTEC
European Space Agency (ESA) - ESRIN
European Space Astronomy Centre (ESAC)
French Space Agency (CNES)
German Space Agency (DLR)
European Spaceport (Kourou, French Guyana)
X-Prize Foundation
MIT
CERN
ITER Fusion For Energy
International Space University (ISU)
European Low-Gravity Research Association (ELGRA)
Medical Physiology Centre of Graz University (Austria)
AESS – Aerospace and Electronics Systems Society
CSIC - Superior Council for Scientific Research
INTA - National Institute for Aerospace Technology
CNIO - National Centre for Oncological Research
FECYT - Spanish Foundation for Science and Technology
Fundación La Caixa
Cosmocaixa
FameLab
CIMA - International Centre for Aerospace Medicine
CIMNE - International Centre for Numerical Methods
Astrophysics Institute of the Canary Islands (IAC)
Canfranc Neutrino Detector (LSC Canfranc)
Museum for Human Evolution in Burgos
Rainfer Rescue Centre Jane Goodall Foundation
Catalan Foundation for Research and Innovation (FCRI)
Expo Recerca Jove
Institute of Space Studies of Catalonia (IEEC)
Aerospace Research & Technology Centre (CTAE)
Valles Tech Park
Technology Centre of Catalonia EURECAT
Aeronautical Parc of Catalonia Foundation (FPAC)
High performance Sports Centre (CAR) in Sant Cugat del Vallés
CIMNE - International Centre for Numerical Methods
Barcelona Zero-G Challenge – UPC/ACBS
Autonomous University of Barcelona (UAB)
University of Barcelona (UB)
University of Catalonia (UPC)
Telecommunications Engineering School of Barcelona (ETSETB)
Aerospace Engineering School (Castelldefels)
Aeronautical Engineering School of Terrassa (ETSEIAT)
Photon Sciences Institute (ICFO)
Cartographic Institute of Catalonia (ICC)
Sea Sciences Institute
Alberto Sols Biomedical Research Institute
Guttmann Institute
Animal Biotechnology and Gene Therapy Centre (CBATEG)
Microelectronics National Centre (CNEM)
Barcelona Biomedical Research Park
Aeronautical Engineer Professional College and Association
Industrial Engineering College
Instituto IES Illa dels Bànyols
CFO La Paperera
Escuelas Profesionales de Sarriá
Escuela de Diseño ELISAVA
Aeroclub Barcelona-Sabadell (ACBS)
CESDA – Centro de Estudios Superiores de la Aviación
MAGMA
Discovery International
Nova Science
Space Daily
Fly News
Florida Space Report
Zoom News
Inno Russian
Zonatex
Gisa
Ruporsters
EuroNews
Via Empresa
Online Innovation Magazine  – InnoSpain
Televisión Española
Antena 3
Telecinco
Televisión de Cataluña
C33
Barcelona TV
8TV
La Ser
RAC1
Com Radio
Radio Castellón
Cataluña Cultura
Agencia EFE
Europa Press
Reuters
La Vanguardia
El Periódico
El País
El Mundo
ABC
Expansión
El Economista
Cinco Días
Publico
Invertia
Yahoo Finanzas
Que Diario
El Punt Avui
Diari de Girona
Eco de Teruel
El Diario de Teruel
ADN.es
El Diario.ES
Publico.ES
Heraldo.ES
Diario de León
Diario de Cádiz
La Rioja.COM
La Tribuna de Ciudad Real
La Voz de Galicia
El Periódico Mediterráneo
Valencia Today
Segre
La Mañana de Lleida
La Veu
Finanzas
SB Nation
Guía de Formación Profesional de Barcelona
InterTransport
AeroSabadell
Actualidad Aeroespacial
Aerotendencias
Microsiervos
Principia